Myung Kuk Yoon (Mike)
Graudate Student at Yonsei University
See my work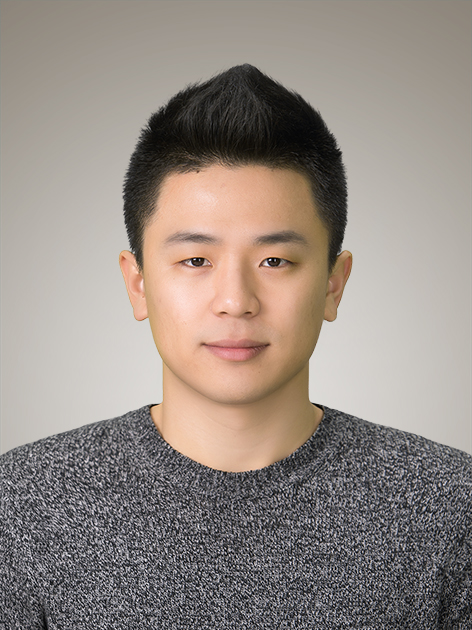 Research Interests
- Computer Architecture
- Graphics Processing Units (GPUs)
- General-Purpose Computing on GPUs (GPGPUs)
Education
- Ph.D. in Electrical and Electronical Engineering, Yonsei University, Korea, 2018
- B.S in Computer Engineering and Computational Math, Washington State University (WSU), USA, 2011
Work Experience
- Mobile Communications Business, Samsung Electronics   Graphic R&D Group, Mar. 2018 - Present
Research Papers
[11] "FineReg: Fine-Grained Register File Management for Augmenting GPU Throughput"   Yunho Oh, Myung Kuk Yoon, William J. Song, and Won Woo Ro   The 51st IEEE/ACM International Symposium on Microarchitecture (MICRO 2018) (Accepted)
[10] "WASP: Selective Data Prefetching with Monitoring Runtime Warp Progress on GPUs"   Yunho Oh, Myung Kuk Yoon, Jong Hyun Park, Yongjun Park, and Won Woo Ro   IEEE Transactions on Computers Vol. 67, No. 9, pp. 1366-1373, Sept. 2018
[9] "Dynamic Resizing on Active Warps Scheduler to Hide Operation Stalls on GPUs"   Myung Kuk Yoon, Yunho Oh, Sangpil Lee, Seung Hun Kim, Deokho Kim, and Won Woo Ro   IEEE Transactions on Parallel and Distributed Systems, Vol. 28, No. 11, pp. 3142-3156, Nov. 2017
[8] "Optimizing Intersection and Reflection Step of Geometrical Optics using GPUs"   Hyun Jin Chung, Myung Kuk Yoon, and Won Woo Ro   The 16th International Conference on Electronics, Information and Communication (ICEIC 2017)   Phuket, Thailand, Jan. 11 - 14, 2017
[7] "Virtual Thread: Maximizing Thread-Level Parallelism beyond GPU Scheduling Limit"   Myung Kuk Yoon, Keunsoo Kim, Sangpil Lee, Won Woo Ro, and Murali Annavaram   The 43rd ACM/IEEE International Symposium on Computer Architecture (ISCA 2016)   Seoul, Korea, Jun. 18 - 22, 2016
[6] "APRES: Improving Cache Efficiency by Exploiting Load Characteristics on GPUs"   Yunho Oh, Keunsoo Kim, Myung Kuk Yoon, Jong Hyun Park, Yongjun Park, Won Woo Ro, and Murali Annavaram   The 43rd ACM/IEEE International Symposium on Computer Architecture (ISCA 2016)   Seoul, Korea, Jun. 18 - 22, 2016
[5] "Warped-Preexecution: A GPU Pre-execution Approach for Improving Latency Hiding"   Keunsoo Kim, Sangpil Lee, Myung Kuk Yoon, Gunjae Koo, Won Woo Ro, and Murali Annavaram   The 22nd IEEE Symposium on High Performance Computer Architecture (HPCA 2016)   Barcelona, Spain, Mar. 12 - 16, 2016
[4] "DRAW: Investigating Benefits of Adaptive Fetch Group Size on GPU"   Myung Kuk Yoon, Yunho Oh, Sangpil Lee, Seung Hun Kim, Deokho Kim, and Won Woo Ro   The 2015 IEEE International Symposium on Performance Analysis of Systems and Software (ISPASS 2015)   Philadelphia, PA, USA, Mar. 29 - 31, 2015
[3] "Introduction to Researches on Performance Bottlenecks of Many-Core GPU Architectures"   Yunho Oh, Myung Kuk Yoon, Jong Hyun Park, and Won Woo Ro   Communications of KIISE, Vol. 32 No. 5, May, 2014
[2] "A Distributed Signature Detection Method for Detecting Intrusions in Sensor Systems"   Ilkyu Kim, Doohwan Oh, Myung Kuk Yoon, Kyueun Yi, and Won Woo Ro   Sensors, Vol. 13, No. 4, pp. 3998-4016, Mar. 2013
[1] "Directory Centralized Ring-based Interconnection for Multi-Core Systems"   Myung Kuk Yoon, Sangpil Lee, Deokho Kim, and Won Woo Ro   The 12th International Conference on Electronics, Information and Communication (ICEIC 2013)   Bali, Indonesia, Jan. 30 - Feb. 2, 2013
Projects
[7] Development of Multi-GPU Based High Speed Ray-Tracing Engine   Samsung Electronics, 2017-2018
[6] Development of Ray Tracing Simulator for Wireless Communication on GPUs   Samsung Electronics, 2016-2017
[5] GPU Architectures for Unstructured and Irregular Parallel Programs   National Research Foundation of Korea, 2015-2018
[4] Development of Regular Expression Accelerator IP Embedded on SSD   Samsung Electronics, 2015-2016
[3] Developing SSD-based MapReduce Acceleration Technology for Efficient Analysis of Big Data   Samsung Electronics, 2014-2015
[2] Development of Power-awareness Android Binder Monitoring and Enhancement Techniques   LG Electronics, 2013-2014
[1] Development of Low Power Cache Coherence Protocol and Interconnection Network   LG Electronics, 2012-2013
My Life Story
I was born in Busan, South Korea, in Sep. 1986. I lived in Busan with my family (grandmother, father, mother, and sister) until 2004. In 2004, I applied to Foreign Exchange Student Program and moved to Springdale, Washington (WA), US. I lived with two different families (Moss and Farmer Families) for two years. I always thank to them for everything that they have done for me. After living two years in Springdale, I moved to Pullman, WA to attend Washington State University (WSU). I had learned a lot and I had so much fun at WSU. Also I met many friends who are still in contact. After the graduation from WSU, I moved back to Korea and entered Yonsei University (Seoul, Korea) for Ph.D. degree. Currently, I am living alone in Seoul, South Korea.
Hobbies
Playing Sports: I have played various types of sports such as american football, soccer, baseball, and so on.
Watching Movies: Especially, I like story-telling movies.
listening Musics:. I usually listen to same song over and over again until I find a new song that I really like.
Sports Participation
Baseball: Baseball is a bat-and-ball game played between two teams of nine players each, who take turns batting and fielding (link). I have played baseball for the last three years. I am currently playing for AimHigh baseball team.
Boxing: Boxing is a combat sport in which two people wearing protective gloves throw punches at each other for a predetermined set of time in a boxing ring (link). I have learned boxing for the last six months and I have done two sparring games.
Indoor Climbing: Indoor Climbing is a popular form of rock climbing performed on artificial structures that attempt to mimic the experience of outdoor rock (link). I have recently started indoor climbing.
Favorite Movies
Remember the Titans (2000): The true story of a newly appointed African-American coach and his high school team on their first season as a racially integrated unit (link).
A.I. Artificial Intelligence (2001): A highly advanced robotic boy longs to become "real" so that he can regain the love of his human mother (link).
DONGJU: The Portrait of A Poet (2016): Based on a true story, renowned Korean poet, Yun DongJu is detained and abused by the Japanese for participating in the Korean Independence Movement (link).
Favorite Songs
Because of You: "Because of You" is a song recorded by American pop singer "Kelly Clarkson" for her second studio album, Breakaway (2004) (link).
'Till I Collapse: "Till I Collapse" is a song by American rapper "Eminem". It was released from his fourth studio album, The Eminem Show, during 2002 (link).
Favorite Foods
Stake (Medium Rare), Sushi, and Strawberry Shortcake.
Email (Samsung)
myung.yoon at samsung.com
Email (Yonsei University)
myungkuk.yoon at yonsei.ac.kr
Email (Personal)
LinkedIn